CSP: Clean-Sanitize-Protect Surface Protection
4Everguard's simple, yet breakthrough CSP is saving Americans time and money
Daily, weekly or monthly cleanings with traditional products are either eliminated or significantly reduced
Our New CSP works on home and industrial projects, for example, your home shower-bathroom. CSP also outperforms traditional methods in large University and Professional Stadium settings as well as Boats and Pontoons and rental car operations.
In 25 Seconds...Why 4Everguard CSP is the Way
CSP - CLEAN-SANITIZE-PROTECT - Easy and Flexible
Clean (Step 1 in CSP)

Depending on surface type and condition, you can select one of our cleaners to remove dirt, rust, grime etc. Step 1 in our CSP protocol: Cyclone for hard and Velour for soft surfaces. Or you may wish to use your preferred surface cleaner.

Sanitize (Step 2 in CSP)

Many surfaces also require anti-microbial, anti-viral and anti-bacterial treatment based on your specific project (e.g. Bathrooms, hospitals, kitchens etc.). SafeTGard is the best choice but you can substitute one of your own. Just know that surface must be clean and in condition you want it before applying Titania in the last step

Protect - Long Term (Step 3 in CSP)

After Surface is prepped (clean, dry and/or cured when you use a sealant like wax or ceramic to enhance shine), apply Titania for long term surface protection. We do recommend graphene ceramic or dry wash & wax for hard appearance surfaces to better seal and shine (e.g. hulls, aluminum pontoons, car/RV paint, un-sealed grout, etc.)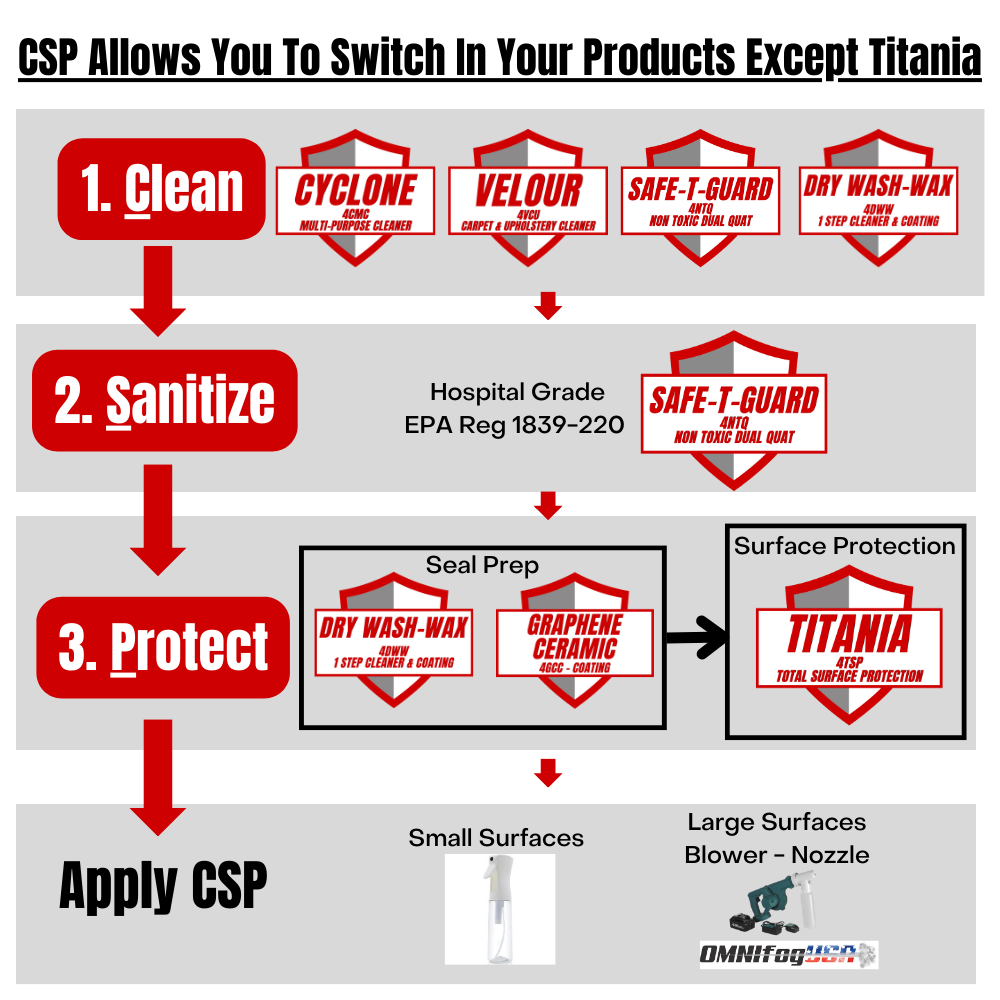 CSP is Flexible - You Can Keep Using Your Favorite Products
Although we think our Clean, Sanitize and Protect Prep products are the best choices for max CSP efficiency, you don't need to toss your current products. You can save $ and use your current products as long as your final step is an application of Titania Surface Protection.
Buy Now
Boat Hull Testimonial - 3rd Year